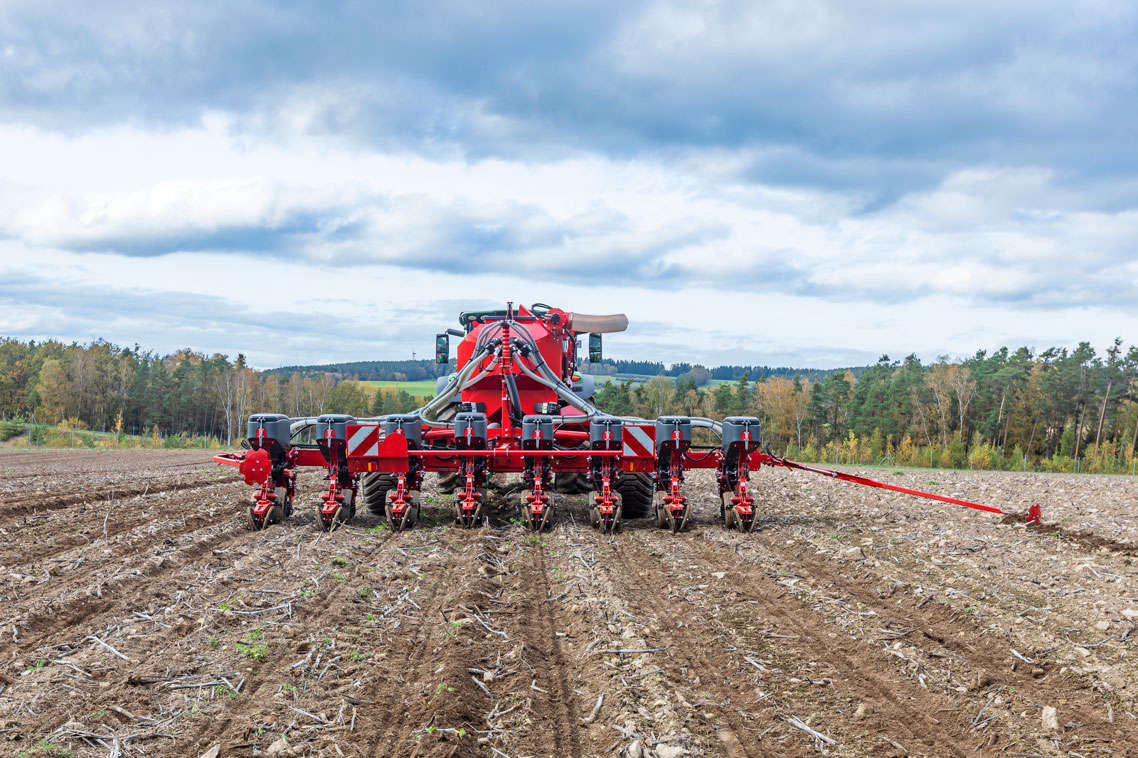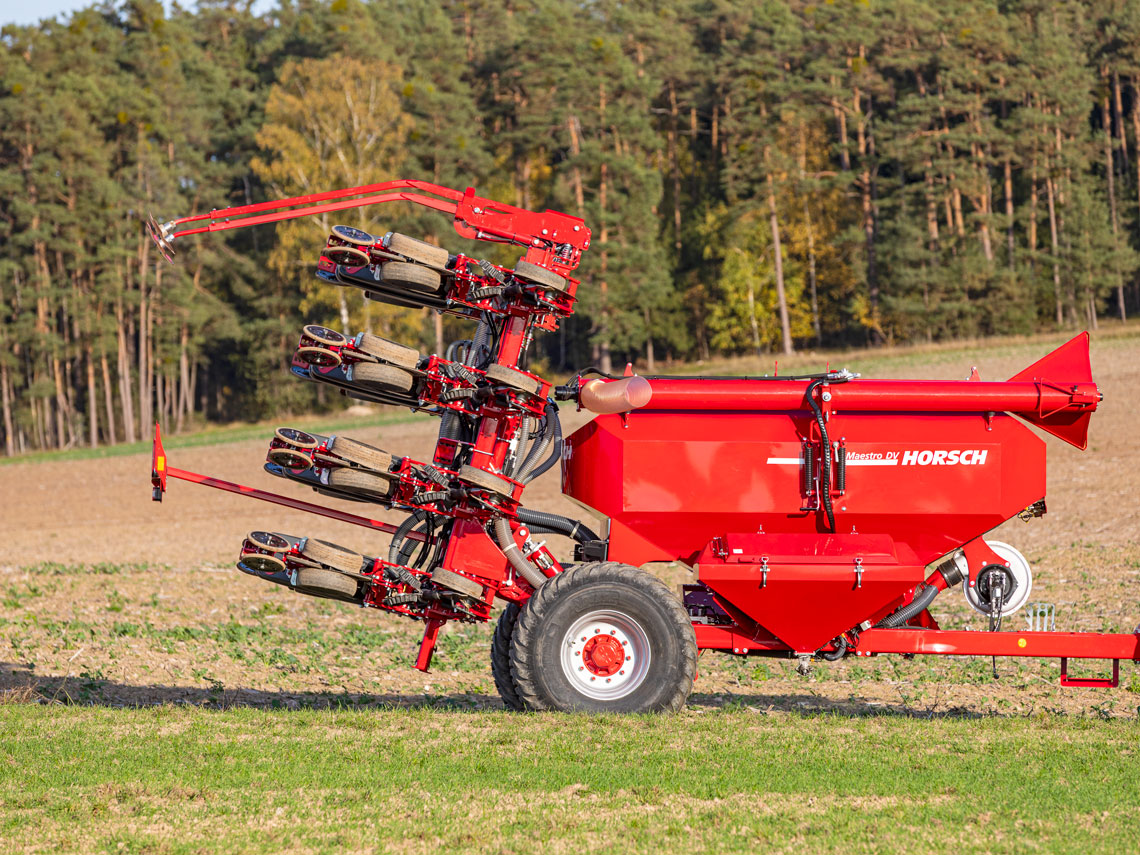 Horsch Maestro DV
ROW SEEDERS
MODERN SINGLE GRAIN SEEDING TECHNOLOGY
Versatile single grain technology for: maize, sunflowers, soybeans, rape

Simple handling of the metering device – no adjustment of the scraper required

Solid and reliable technology – heavy parallelogram and row unit for highest strain

Coulter pressures up to 260 kg for safe sowing even in difficult conditions

Automatic, soil-dependent coulter pressure adjustment AutoForce with coulter pressures up to 350 kg per row

High hectare output due to long range for fertiliser and seed

Compact unit with low demands on the tractor
Maestro DV
THE ALL-ROUNDER AMONG THE SEED DRILLS
The very compact unit Maestro DV that consists of a high-capacity seed wagon, a seed bar with 6 m working width and a single grain seed bar with 8 rows guarantees high efficiency combined with comparably little requirements on the tractor. As a seed bar can be linked via a 4-point linkage it is possible to attach a Pronto NT seed bar with a working with of 4 or 5 m for broadcast sowing. Thus, the Maestro DV can be used even more universally and becomes an all-rounder among the seed drills.
To meet all customer requirements in an optimum way, two configurations of the seed wagon of the Maestro DV are available.
Single hopper for fertiliser
The 2 800 litre hopper is used to apply fertiliser via the coulters of the underground fertilisation. In this case, the seed is supplied in the large individual row boxes with a capacity of 70 litre.
Pressurised double hopper for two components
If the Maestro DV is equipped with a Pronto NT seed bar the 3 500 litre double hopper can be used to apply seed and fertiliser into the seed slot at the same time (Grain & Fertiliser system). As an alternative, the double hopper with the single grain seed bar can be used to apply two different components via the underground fertilisation unit.
For both versions the hopper is equipped with the well-proven HORSCH metering technology and can supply the underground fertilisation system respectively the seed bar of the Maestro reliably and precisely.
The row body of the Maestro DV is equipped with a wide, sturdy parallelogram and, as a standard, with springs to create the coulter pressure. Thus, coulter pressures up to 260 kg per row can be generated mechanically. As an option, it is possible to equip the machine with hydraulic cylinders to generate the coulter pressure. Thus, the innovative coulter pressure regulation system AutoForce carries out the coulter pressure adjustments up to max. 350 kg per row. The weight of the seed wagon is used to generate the coulter pressure over the whole width of the machine and relieves the seed wagon tyres while sowing.
Maestro DV – in brief
Precise and simple singulation with HORSCH AirVac

Clear and simple design of the machine

Very low horsepower requirement: as of 100 hp

Seed wagon with single hopper or pressurised double hopper

Combines two seed drills in one:

8-row single grain seed bar

Pronto NT seed bar with 4 or 5 m working width

Coulter pressures can be adjusted mechanically up to 260 kg per row or fully automatically with AutoForce up to 350 kg per row

Weight of the seed wagon is used to generate coulter pressure

Underground fertilisation with single disc fertiliser coulter

Central micro-granular unit for placement in the furrow or on the row

ISOBUS control
| | |
| --- | --- |
| Working width (m) | 6.00 |
| Transport width with 2.45 m track (m) | 3.00 |
| Transport width with 2.80 m track (m) | 3.35 |
| Transport width with 3.00 m track (m) | 3.55 |
| Transport height (m) | 3.90 |
| Transport length incl. Maestro DV (m) | 7.50 |
| Weight incl. Maestro DV (kg)* | 4 950 |
| Hopper capacity seed waggon single hopper version (l) | 2 800 |
| Hopper capacity seed waggon double hopper version (l) | 3 500 |
| Feed opening seed waggon single hopper version (m) | 1.00 x 2.40 |
| Feed opening seed waggon double hopper version (m) | per 0.60 x 0.90 |
| Number of seed coulters | 40 |
| Coulter pressure (kg) | 5 – 120 |
| Seed coulters / press wheels Ø (cm) | 34 / 32 |
| Row spacing seed coulters (cm) | 15 |
| Tyre size seed waggon | 550 / 60-22.5 |
| Working speed (km/h) | 10 – 20 |
| Horsepower requirement from (kW/hp) | 75 / 100 |
| DA control devices | 1 DA hydr. functions, 1 DA hydr. fan direct drive fertiliser and underpressure with adjustable flow rate, 1 DA hydr. filling auger |
| Depressurized return flow (max. 5 bar) | 1 for hydr. fan direct drive |
| Oil quantity hydr. fan fertiliser and underpressure (l) | 50 |
| Adj. drawbar linkage | Bolt Ø 40 mm |