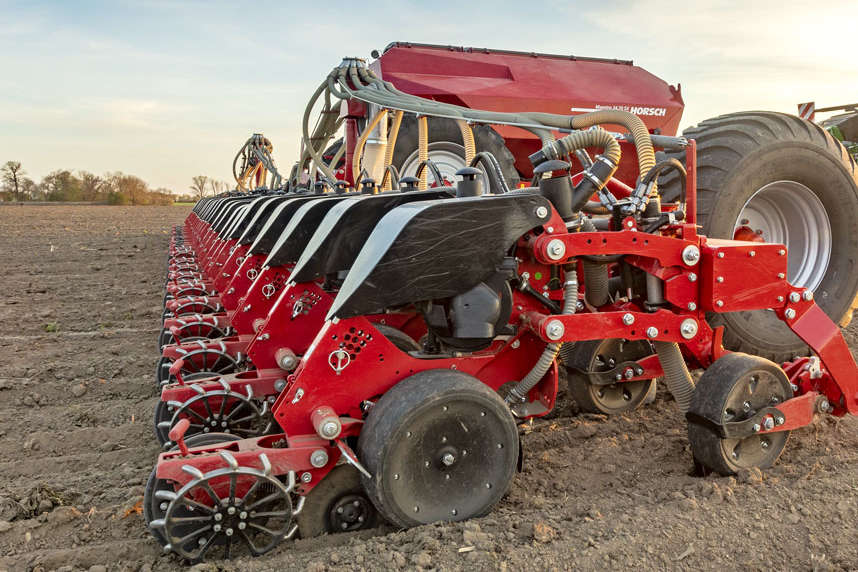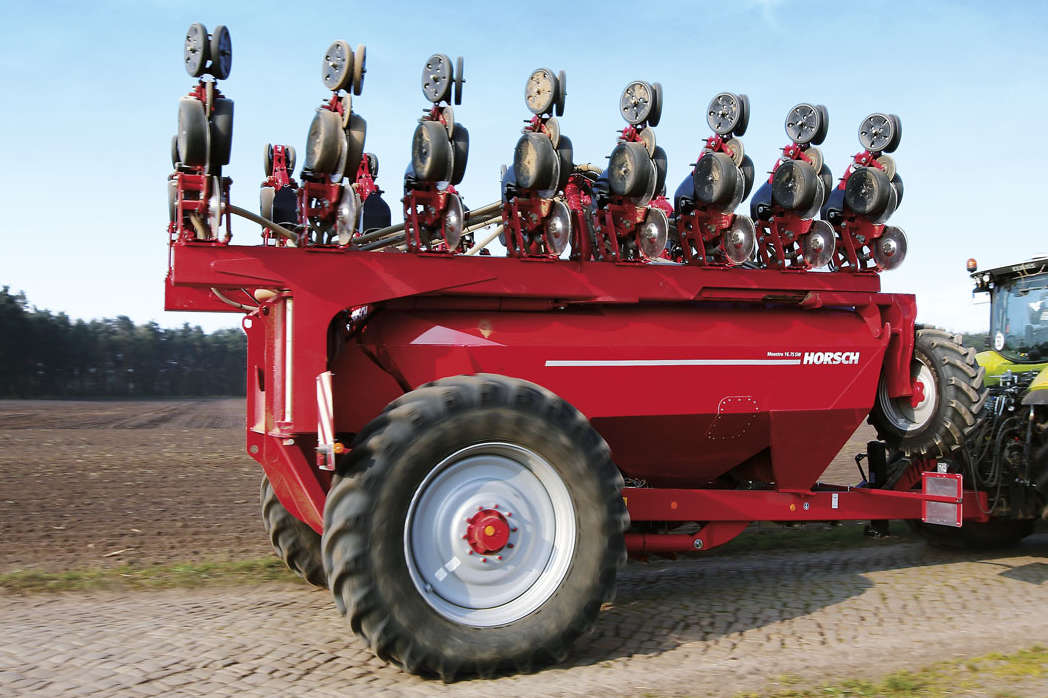 Horsch Maestro SV/SX
ROW SEEDERS
THE FUTURE OF PNEUMATICSINGLE GRAIN SEED TECHNOLOGY.
FAST – PRECISE – VERSATILE.
The Maestro – a master of singulation
Due to the precise grain singulation the Maestro is ideal for the most different crops. The well-proven seed wagon concept still is unique and unparalleled. The two new HORSCH metering systems offer utmost individualisation and optimum adaptability to the farm-specific conditions.
Maestro SV / SX
MAXIMUM EFFICIENCY WITH LARGE SEED WAGGON
What are the excelling features of the Maestro SV / SX?
Operational speed up to 15 km/h with the AirSpeed metering device

Maximum efficiency for single grain seed

Seed waggon with a capacity of 2 000 litre for seed and of 7 000 / 6 000 litre for fertiliser

Main Tank Supply system for a seed supply without gaps at every seed unit

As 12-, 16-, 18-, 24- or 36-row version

Row spacing from 45 to 80 cm

Robust HORSCH seed units

Coulter pressure between 150 and 350 kg hydraulically adjustable or fully automatically controlled with AutoForce
And of course
The new metering device generations AirVac and AirSpeed

Simple handling of the metering devices – no adjustment of the scraper required

Exact monitoring of the singulation and placement quality

Precise sowing with AirVac up to 12 km/h and with AirSpeed up to 15 km/h

Universally suitable for maize, sunflowers, sugarbeet, rape, sorghum, soybeans and other types of beans

Standard electric drive as a prerequisite for:

SectionControl

Intelligent tramline control

VariableRate

ContourFarming (Option)
| | | |
| --- | --- | --- |
| | Maestro 12.70 – 75 – 80 SV / 30" SV | Maestro 16.70 – 75 – 80 SV / 30" SV |
| | | |
| --- | --- | --- |
| Transport width (m) | 3.00 | 3.00 |
| Transport height (m) | 4.00 | 4.00 |
| Transport length (m) | 8.90 | 8.90 |
| Weight incl. seed waggon approx. (kg)* | 8 500 | 10 500 |
| Hopper capacity seed waggon seed / fertiliser (l) | 2 000 / 6 000 | 2 000 / 6 000 |
| Feed opening seed waggon seed (mm) | 800 x 660 | 800 x 660 |
| Feed opening seed waggon fertiliser (mm) | 2 450 x 660 | 2 450 x 660 |
| Number of rows | 12 | 16 |
| Electr. coulter pressure adjustment terminal (kg) | 150 – 350 | 150 – 350 |
| Depth control wheel Ø (cm) | 40 | 40 |
| Press wheel Ø (cm) | 30 / 33 | 30 / 33 |
| Catching roller | Standard | Standard |
| Row spacing (cm, inch) | 70 / 75 / 80 / 30" | 70 / 75 / 80 / 30" |
| Sowing depth (cm) | 1.5 – 9 | 1.5 – 9 |
| Drop height seed (cm) | 45 | 45 |
| Tyre size seed waggon | 520 / 85 R 38 | 520 / 85 R 38 |
| Telescopic axle mech. | Standard | Standard |
| Working speed (km/h) | 2 – 12 | 2 – 12 |
| Horsepower requirement from (kW/hp) | 147 / 200 | 160 / 220 |
| Depressurized return flow (max. 5 bar) | 1 | 1 |
| DA control devices direct drive | 1 DA hydr. functions, 1 DA hydr. fan direct drive underpressure with adjustable flow rate, 1 DA hydr. fan direct drive fertiliser and seed with adjustable flow rate, 1 DA hydr. filling auger fertiliser system | 1 DA hydr. functions, 1 DA hydr. fan direct drive underpressure with adjustable flow rate, 1 DA hydr. fan direct drive fertiliser and seed with adjustable flow rate, 1 DA hydr. filling auger fertiliser system |
| Oil quantity hydr. fan fertiliser / seed (l/min) | 40 | 50 |
| Oil quantity hydr. fan underpressure (l/min) | 30 | 30 |
| Oil quantity min. lifting / lowering (l/min) | 40 | 40 |
| Power demand during operation (A) | 45 | 50 |
| Adj. drawbar linkage | Ring hitch Ø 58 / 79 mm | Ring hitch Ø 58 / 79 mm |
| Ball-type linkage | K 80 | K 80 |